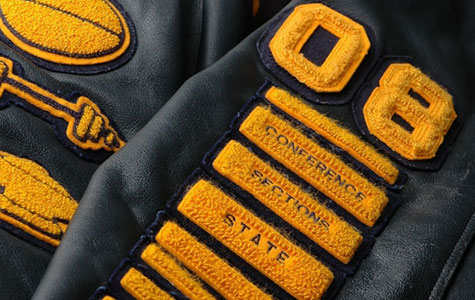 When it comes to expert custom embroidery service in Norco, CA, no one comes close to that provided by U-n-Urs Custom Lettering. We've been serving the embroidering needs of people in Norco and the surrounding areas for decades, and we have built a reputation for clean, attractive work and friendly customer service over the course of those years.
We're proud to be considered a top embroiderer in Norco, CA, and we love the work that we do. No matter if you're looking for glittered embroidery or simple monogramming, we're here to bring your vision to life. In order to fully serve the needs of all of our customers, we offer the following services:
Embroidery: Embroidery is our specialty, and we can embroider your design onto just about any surface. No matter if you want a hat embroidered with a specific design or multiple t-shirts embroidered with a glittery logo, we're here to help. We can make your design as simple or as detailed as you'd like. Whatever your design may entail, we'll deliver it in just the way you want. We're widely regarded as a top embroiderer in Norco, CA because we're committed to providing outstanding customer service.

Monogramming: If embroidery isn't your thing, we can still help you design your t-shirt, tote bag, hat or other item. We offer our expert monogramming services to create printed designs that are clean and crisp so that your message can be clearly read. Monogramming is a great way to label an item or piece of apparel with your own personal logo.

Shipping: If you are unable to pick up your order or if picking up your order will be an inconvenience to you, you can still receive your products in a timely manner. We offer our shipping on all of our products for an additional fee so that you can get your embroidery as quickly as possible.

Custom Letterman's Jackets: We provide an easy and affordable solution to producing the highest quality customization of Letterman Jackets. We have a wide variety of custom options to promote any sports team, varsity teams, clubs, organizations, even your local business. Call us today for a fast and easy price quote by phone!

Letterman jackets: A custom letterman jacket can tell the world a story about you or your accomplishments. Whether you're an avid athlete who excels at the collegiate level or a titled member of a school club or organization, everyone will be able to see your leadership as soon as they catch a glimpse of your letterman jacket. We're highly adept at monogramming letterman's jackets, as well as patching them, embroidering them and even adding patches to them. No matter the size, color or style of your jacket, we're happy to tailor its appearance to make you stand out as a member of your sport or organization!
If you're in need of an experienced professional to provide embroidery service in Norco, CA, then you can rest easy knowing that your materials are in good hands with the experts at U-n-Urs Custom Lettering. We're proud to have been serving the embroidery and monogramming needs of people in the area since 1976, and we're committed to continuing our tradition of excellence. Call us today at 951-735-5801 to learn more about what we can do for you.